4 Tips to Design an Outdoor Kitchen
Having an outdoor space is nothing less than luxury, but having an outdoor kitchen garden means taking the extravaganza to the next level. Imagine flipping patties on the grill and entertaining your guests while your wife serves them with the delicious meal she had prepared. How about making cocktails in your mini bar in the outdoor kitchen space?
If you have planned to make your outdoor living space more functional by adding an outdoor kitchen, then you must know it requires sheer planning. Having an outdoor kitchen is a lot different than your regular kitchen. The good news is that you have various options, whether it is material, appliances, or various fixtures. Aside from focusing on the basic structure of your kitchen, you can choose any location in your outdoor space with varied flooring options— wooden deck (if any), concrete flooring, patterned tiles, or any other type of floor. All you need is a perfect layout with a checklist of things you want to incorporate in your outdoor kitchen. Below are some of the tips that will help you design your type of outdoor kitchen-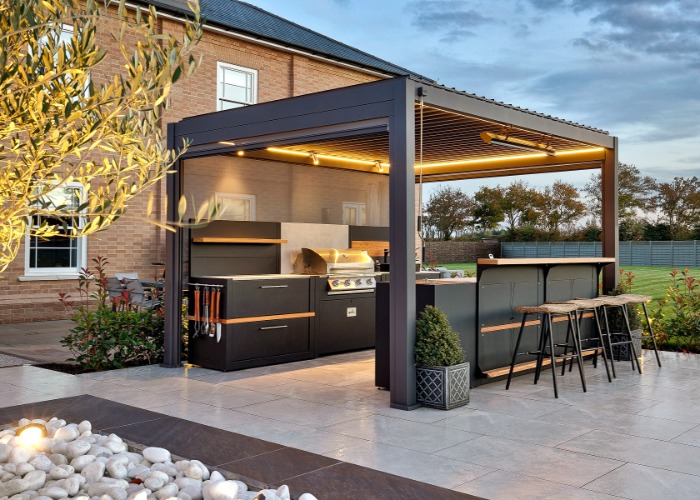 1) Consider your surroundings- 
Adding an outdoor kitchen means extending your interior, so choose the space depending on the size of your yard and where you can establish your outdoor kitchen. Before you implement your plan, you must check the details of the exterior of your house since the kitchen must blend with the surroundings and body of your home. For instance, if your house has a tropical look, opting for materials like bamboo and hardwood will suit the lush foliage.
2) Plan your layout- 
The outdoor kitchen layout is as important as that of the indoor kitchen. The form of the indoor kitchen is defined by the walls and the house's structure, whereas the outdoor kitchen's design depends entirely on the available space. For instance, constructing an L-shaped kitchen can save you ample space and will look spacious while using it.
3) Choose your materials-
The outdoor kitchen will be exposed to weather conditions like heat, rain, sun, and thunder; therefore, it must be robust enough to withstand all atmospheric conditions. It is only possible by choosing superior quality materials. For instance, stainless steel is a great option to choose from materials for building countertops and cabinets. It can withstand varying temperatures and is easy to maintain. Besides, you can install tiles of various materials and artwork in the backlash of your outdoor kitchen to give it a creative touch.
4) Assimilate the appliances you need-
Besides constructing a kitchen, you must consider improving its functionality, which could be done by assimilating components and appliances you had been longing to use. Some of them are mentioned below-
Grills and smokers to grill chicken and fish.
Ice maker for your party cocktails.
Barbeque
Built-in kegerator for your beer.